PROMOTE / MONETIZE YOUR SONG NOW WHATSAPP 08157053556
A Yoruba Lady named Stephanie Ola boasted her nails Cost 125k Naira that she can't Allow a Poor Man To sleep with her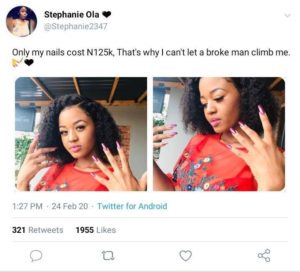 Some Ladies these days always use the social media to exhibit their kind of attitude and we keep wondering what sort of freedom of speech social media have invited to exposed.
This is the case of a young yoruba lady called Stephanie Ola who stormed micro blogging social media portal Twitter with her post about her Nails fix and done and spent 125k Naira on them.
She posted her nails cost 125k Naira and said she can't date a man who has no money rather a poor man cannot sleep with her and it has been causing lot of commotion on twitter and has since received lots of critiques and insults from Nigerians.
Well we cant blame her maybe its all she had and know and feel obsessed with her Body to get what she wants that why she spends much on her beauty.