PROMOTE / MONETIZE YOUR SONG NOW WHATSAPP 08157053556
Top 10 Nigeria's musicians who were 'one-hit wonders' way back , Get to know them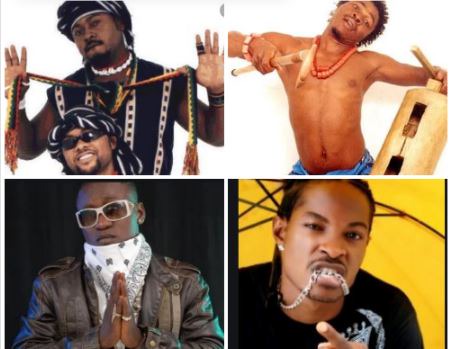 These 10 musicians rocked the Nigerian dance space and their sounds was the anthem and a few who dared to stage a comeback failed to produce major hits and since then we have not been hearing about them in the Nigerian music industry
Deebee Collabo
DeeBee, born Adebayo Samuel Durojaiye, debuted with his first single, Collabo, in May 2008, and the song brought him into the limelight. since then nobody heard any more hit track from the youngster
Kas
''Kas'' is a UK based Nigerian and He released the monster hit ''Fimile'' which was a slow but mind blowing song. He which gave us the street lingo ''Omo Yoruba'' which means ''Son of the Yoruba Tribe''. Kas is now a religious type and now as a Pastor.
J'odie
Joy EseOghene Odiete, AKA J'odie, is a talented vocalist, songwriter and singer. She released the track ''Kuchi Kuchi'' in 2010 which expressed Mother's love to her Child. Kuchi Kuchi (Oh baby) was her debut song and it blew her
Zule Zoo
Kerewa'' was a hit music in the 90s except you were not born around the 90's made by the duo Zule Zoo Hassan "Ibro" Ibrahim and Michael Aboh . After the release of ''Kerewa'' in 2006, nothing much was heard from the duo again.
Sky B
Sky B '' released the track ''Am Calling'' (Ma Bebe) in 2007. This song rocked the Nigerian music air waves so quite a long time . Apart from the songs which came as an album alongside ''Am Calling'' like ''Pray for me''. However, Sky B was not really heard from again
Resonance (Estar)
Esther Olaedo Ebigbo was born to a Nigerian father and a German Mother. She goes with the stage name ''Estar''. She released the monster hit ''Chinweike'' in 2008. Estar quickly faded out of the industry not because of the lack of talent but other issues I guess.
Bigiano
''Bigiano'' born in Ibadan, Nigeria with the real names ''Babalola Gabriel Olugbenga'' was a former member of a music group ''Triple B''. He released the smash hit single ''Shayo'' in 2009 which brought him great fame and fortune. Bigiano was not seen or heard anymore even the music community keep wondering what has gone wrong with his music carreer
Konga (Baby Konga)
''Konga'' came to lime light when he dropped the hit ''Baby Konga'' way back in 2008 and has since been off the music industry. ''Baby Konga'' was the street anthem and majorly danced back then in clubs but however ''Konga'' could not do something similar to that again.
Stereoman (Sample Ekwe)
Delta State born Musician who goes by the name, Sunday Osakuni, and stage name ''Stereoman'' came to great limelight with the single ''Sample Ekwe'' in 2012. The track came with a funny dance step which was known as ''Galala'' and also ''E dey pain me''. He however could not release another monster hits anymore till now
Kelly Handsome
Kelly Handsome's ''Too much Money, It's ''Maga Don Pay'' Lingo which gave rise and confidence to most advanced free fraud guys to be bold and controversial song was released in 2008 however people still sang and danced to it , The handsome dude could not produce another hit like ''Maga Don Pay'' till date