PROMOTE / MONETIZE YOUR SONG NOW WHATSAPP 08157053556
A White South African man says coronavirus attack people with no melanin, black people hardly catches it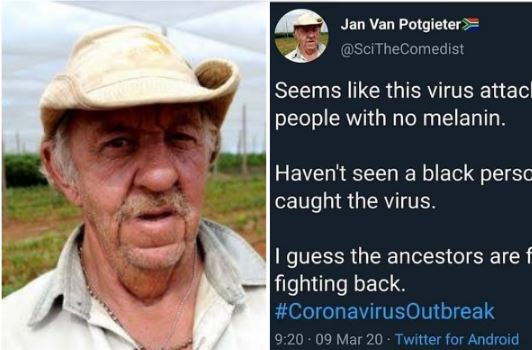 With each new day of the growing coronavirus pandemic, a chief concern is how to keep the rate of transmission down in every corner of the world , but this white South African man has come out and lamented on his social media account that Africans ancestors are fighting back and are helping Africans to prevent the contracting of the deadly coronavirus that is ravishing the world at the moment, That he have not seen a black person caught the virus.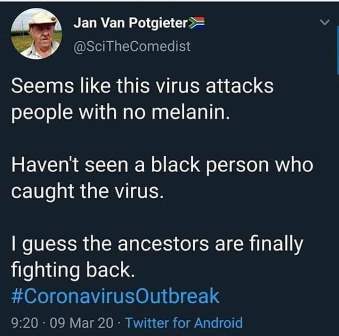 He furthermore topped his believe that it seems that the virus attacks only people with no melanin ,Well it may be a joke of the century as for me melanin protects Black people from coronavirus isn't just factually challenged, it's a dangerous lie.
Social media stories like this are good for a laugh, like all ignorance, they also pose a serious health risk. And this rumor has been spreading online and this South African man post is one of them .