PROMOTE / MONETIZE YOUR SONG NOW WHATSAPP 08157053556
See the savage text message a grandmum sent to her grandchildren for neglecting them during Lockdown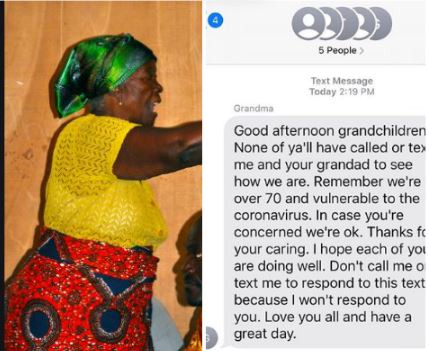 A savage text message a grandmother sent to her grandchildren after they failed to check up on her and their granddad amid the COVID-19 crisis, has been shared online on social media
The savage text message the grandmother sent to her grand children was to exposed the children of how they neglcted she and their grand dad amid the COVID-19 crisis lockdown which made her cold hearted and decided to send them this epic text message
The grand mother who wasn't pleased with her grandchildren for their lack of concern noted that she and her husband, who are over 70 are vulnerable to Coronavirus, and still none of them tried to call to know if they were doing fine.
She ended her message to her grandchildren, saying: 'Don't call me or text me to respond to this text because I won't respond you. '
See the full message below.