PROMOTE / MONETIZE YOUR SONG NOW WHATSAPP 08157053556
As 2019 came to an end, the former President of the United States of America dropped his favorite playlist of the year. This was done by the means of a Tweet he made via the popular social media app, Twitter. Amongst a number of American artistes and a few African ones, it was an honour to find songs from two Nigerians on the list.
Nigerian artistes and songs that made the list were Rema, whose song, "Iron Man" had previously made the summer playlist of the ex-President. Debuting on this list for the first time was Burna Boy, with one of his hit songs, "Anybody" coming off his latest album titled African Giant.
If songs from artists like Rema and Burna Boy could make the list, we were definitely shocked as to why bigger artists like Davido, Wizkid, Fireboy, Joeboy, etc did not make the list. Davido and Wizkid are bigger artists than Rema and Burna boy. Fireboy and Joeboy can be placed in the same category with Rema, except that they have more songs.
The year 2019 was also a great year for these four artistes as they went on to release songs that became major hit tracks. Davido had songs like "Risky" in an international collaboration with Popcaan, and "Blow My Mind" which saw him also collaborate with Chris Brown. He also released his album, "A Good Time" in the same year.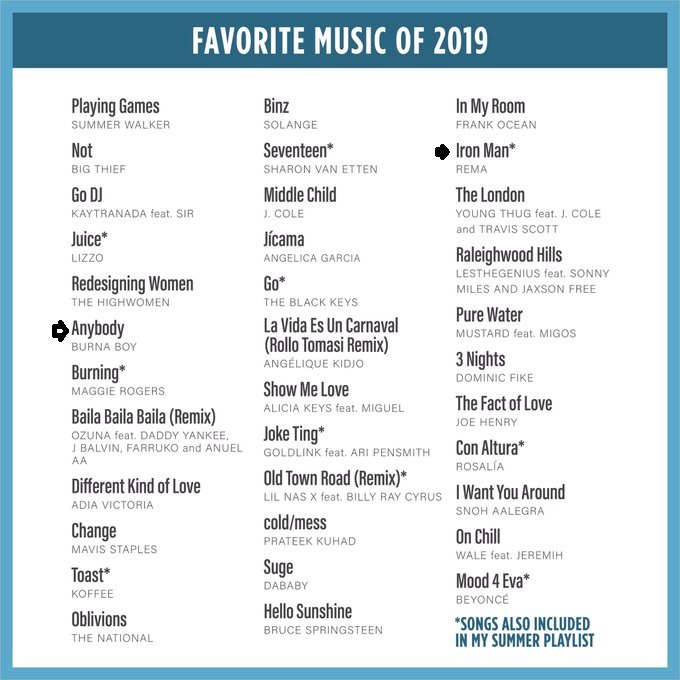 Wizkid also had hit songs like Joro, Totori and a feature in Brown Skin Girl, coming off the The Lion King: The Gift album by Beyonce. He also released a new album last year titled Soundman Vol. 1 and has other albums in the works as well. His Starboy Fest Concert was a huge success as well.
Fireboy and Joeboy are two artistes that consistently served us hot singles all through last year. Fireboy DML had several hit songs all through 2019 such as Jealous, Scatter, What If I Say, Vibration, etc. He also released an album titled Laughter, Tears and Goosebumps.
On the part of Joeboy, the Baby crooner had released songs such as Beginning, Baby, Don't call me back, etc back in 2019. He also went on to release a new album which he titled Love and Light EP.
However, with such achievements by these favorite Nigerian artistes, it was not enough to earn their songs a space on the ex-President's playlist of 2019. While Fireboy and Joeboy have given us great songs, their popularity is still heavily domiciled within the shores of Nigeria. This could be a major reason.
Wizkid and Davido are much more popular, on the other hand, however, I doubt if their genre of music fits what the ex-President listens to. The duo sing more of party and dancehall songs while Obama's list is made up of songs that inspire workouts or accompany one on a journey.
This does not take away from the fact that all four artistes are great musicians and are doing well in their career. And even if they don't ever get to make the ex-President 's list, they have made a name for themselves. Hopefully, 2020 will be a great year for all of them.