PROMOTE / MONETIZE YOUR SONG NOW WHATSAPP 08157053556
Happy new year once again to my readers and fans alike. I am back and pledge to serve you better. As such, i would be bringing you some of the hottest gist of the year. On the 30th day of December 2019, the former President of the United States of America (USA), Barack Obama dropped a tweet on his Twitter Timeline with a list of his top favorite music of 2019.
Before now, Obama had previously dropped a summer list which included a song from our very own Rema titled Iron Man. Nigerians and fans of the fast growing musician serenaded him with praises and accolades for this rare feat. And then Obama dropped his list and not only did we find Rema on the list; Burna Boy also made the cut.
Here's why we think these two top artists made the list of Obama's Top playlist for 2019. First, Obama has African roots and as such, no matter where he has been and lived, he'd still be drawn to his roots. That's why apart from the songs from Rema and Burna Boy, songs from a few other African artists were also featured in his playlist.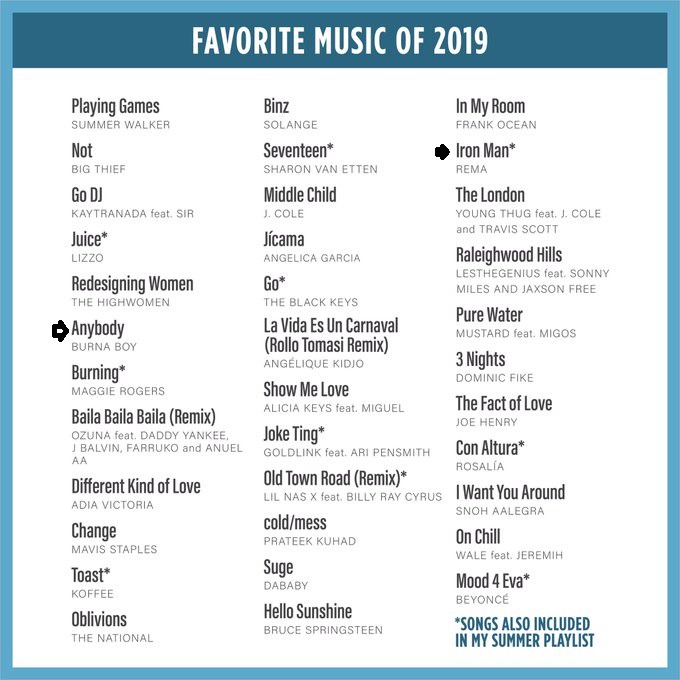 Obama wrote that the songs that made his playlist are songs that can accompany you during a journey, or you can vibe to while working out. For Rema's Iron Man which has now made two consecutive lists, it fits into both categories. This we believe is a major reason why this song made Obama's list.
Also, Rema took the music world by storm, releasing just a few songs but creating a niche for himself in a space of a few months. He has also gotten a huge number of fans, as well as won the much coveted Next Rated award at the Headies last year. With what he has been able to achieve so far, it is not surprising that he made Obama's list for a second time.
Burna Boy is another Nigerian artist who made Obama's favorite playlist of 2019. It was his song, "Anybody" released in June 2019 that put him on the list. 2019 was a really amazing year for Burna Boy which saw him release a plethora of songs and his album titled African Giant.
Burna Boy's album also saw him bag a Grammy award nomination in the Best World Music Album category. Burna Boy has also had some international collaborations with artists such as Ed Sheeran and Stormzy. His song, Anybody was also used in an American TV Series named Ballers back in September 2019.
With such achievements last year, and with a growing interest in his genre of music, it was only a matter of time before he caught the attention of the ex-American President. While we would have loved to take this as a sign of Burna Boy emerging a Grammy award winner this year, Angelique Kidjo, his biggest contender for the award also had one of her songs chosen by Obama.
And after having appeared on the ex-President's playlist, the popularity of the duo can only soar further. If they can capitalize on this to produce more great songs like this, they'd definitely go on to achieve higher successes this year.