PROMOTE / MONETIZE YOUR SONG NOW WHATSAPP 08157053556
Controversial Christian Advocate Ifedayo Olarinde famously Known as Daddy Freeze has Again resurrected his beef with the Pastor and General overseer of Dunamis International Gospel Centre , Dr Paul Enenche.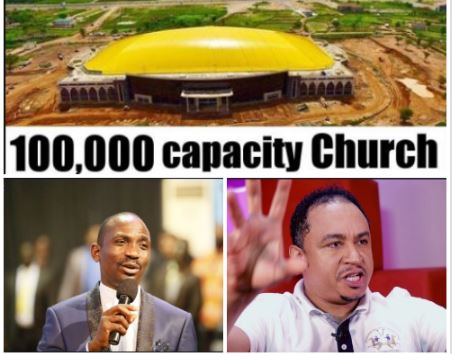 If You recall some time in 2018, Daddy Freeze contered Pastor Enenche criticizing him for building the world's biggest church auditorium in Abuja. He recently posted this on his facebook page and Instagram as a result of the Ban and restrictions on Public gatherings which church attendance on Sundays is also restricted as a measure to limit the Spread of Coronavirus the Deadly Disease that is Causing Pandemic all over the World at the moment.If you recall The Dunamis Dome which has about Hundred thousand Seaters and is Located in Federal Capital Territory Abuja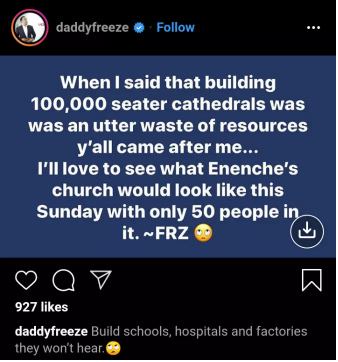 .
"When I said that building 100,000 Seater cathedrals was a Waste of Resources, y'all came after me, I'll love to see what Enenches church would look like on Sunday with only 50 People in it. Build Schools, hospitals and Factories they won't hear"
Series of viral reactions have since been shaking the social media space as at when the post on Instagram and facebook was posted and several reactions have poured out from Nigerians who majorly agreed with him that indeed more hospitals and schools need to be built at this moment of distress and not large worship centers like Dr Paul Enenche's Dunamis Dome.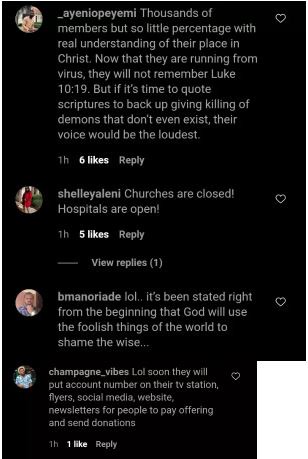 comment and share on this now and let discuss this matter deeply